Interactive Virtual Magic Shows with Harrison Kramer
Harrison Kramer is a world class professional magician for hire in New York City and one of the most experienced interactive Zoom entertainers in the world. His virtual magic shows have been booked by Google, Apple, Amazon, Microsoft, and Facebook as well as hundreds of other tech giants, finance firms, and fortune 500 companies from all over the world. Learn more about Harrison Here!
This is about more than Magic.
An extraordinary live online experience for up to 1,000 guests.
Zoom Magic has the incredible power to bring people together from all corners of the earth for a live, interactive, and deeply human experience that feels like everyone is in the same room. Regardless of a pandemic, interactive virtual magic is a massively powerful tool for helping people connect to one another in the modern world. After close to 1000 virtual performances since March of 2020, I truly believe that Zoom magic holds the keys to more inclusion, equality, and joy to the world. My Virtual Magic performances are ideal for online corporate events such as employee appreciations, remote team building, company socials, virtual town halls, executive roundtables, global charity galas,  and just about any other video conferencing event.
Virtual Magic Shows for Corporate Events
Zoom Magic Shows for Remote Teams
Busy Philipps talks about my Virtual Show!
Virtual Entertainer on Zoom!
The video that started it all!
What is an interactive virtual Zoom magic and mentalism show?
The virtual Zoom show is a live performance by Harrison which has been adapted to work with any size audience in a Zoom video conference. During the show Harrison showcases incredible magic, mentalism, and mind-blowing feats of skill while constantly interacting with his audience. Throughout, You will get to see and hear your friends and colleagues getting their minds boggled as Harrison seamlessly jumps between spotlighting himself and various guests. By bringing along your own deck of cards, Harrison will perform magic in your own hands and even teach you somthing wicked to fool your friends. All of this allows for a truly unique online experience that bears no resemblance to watching a video or live stream. These shows can be designed for corporations, adults, families, or children. Harrison has performed virtual shows of every size, all across the world, and has thousands of hours of experience performing magic and mentalism for all ages. Harrison Kramer's Zoom Magic shows can vary in length from 15 to 90 minutes
Corporate Virtual Show Reviews
"Harrison did a virtual Zoom event for about 40 of our employees and it was FANTASTIC! He engages with the audience and really makes it inclusive. The virtual aspect doesn't hinder the show at all - it's actually more surprising when he picks a card you are thinking of because you aren't even in the same room together! Our CEO is already asking for the next magic show! Thank you Harrison"
Gillian Mulhere - Empire Wealth Strategies
"We hosted a virtual event with Harrison for our largest customer. It was OFF THE CHARTS awesome! Our customers included their kids and it was such a success. Harrison has mastered not only his work but the art of engaging a customer who is remote! You need to consider Harrison for your next customer event! Sandy"
Sandra Wallace-Jeter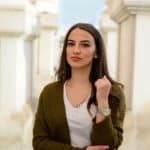 Patricia O'reilly
"I cannot imagine having had a better experience than the one we had with Harrison. He performed for our school community, an incredible opportunity for us to bring together parents and their children, grandparents, and alumni in a unique and fun way that appealed to all ages. Harrison brings energy to a new level, and engaged everyone with smart and funny banter that had us all laughing the entire time--that is when we weren't trying to figure out how HE DID IT! He is an amazing magician & mentalist, as well as a superb performer. And best of all, he made the process about as easy as a process could be. Such a great evening for our community. Highly recommend! Thank you, Harrison."
Shira Rubin
"Harrison was amazing! Lots of "How did he do that?!?", shocked faces and also a LOT of laughing. His energy and the way he manipulated the Zoom meeting was unique - definitely used the virtual platform to his advantage and was extremely engaging. It was unusual to be so engaged on a Zoom call (especially with everyone's massive Zoom fatigue). I highly recommend him!
Also - if you're looking for something for a board of directors or a serious group, use Harrison! I had a Board of Directors meeting and was nervous about joking around with them since they are mostly pretty serious. He perfectly toed the line between funny/teasing and never crossed the line to inappropriate insults. I received a TON of emails stating how amazing he was from the group.
Again, HIGHLY recommend!!"
Carly Langley
"Harrison is not only incredibly talented at his craft, but he is a true entertainer through and through. We have used Harrison for several events; holiday parties, team-building, etc and his material is always fresh, hilarious and brings genuine connectivity to our team.
I could not recommend Harrison more!!!! Book him before someone else does."
Types of virtual magic & mentalism experiences!
I offer many customizable virtual show options but here are a few of my most popular programs.
15 & 30 minute magic and mentalism shows
My fast paced and action packed shows are perfect for any corporate or private event.
45 & 60 minute magic and mentalism shows
These shows are the full Harrison Kramer experience with all of the bells and whistles for optimal brain melting.
Add a 15, 30, or 60 minute team-building workshop!
Learn to make your friends look like fools while discovering misdirection and magical thinking.
What makes an online interactive virtual magic show so unique?
The live online interactive virtual magic show is a completely new genre of magic performance. To the uninitiated, it might seem that magic and mentalism would not translate to a Zoom-based experience. One might think, "Well, he switched the cards off the screen." or "Let me shuffle!" and yes, these are things for both the magician and the audience to consider. However, an experienced virtual magician or mentalist does not let these important considerations get in the way. In fact, he or she can use the zoom format to make the magic even stronger. In a virtual magic show every single audience member has a front row seat. Every guest has the opportunity to see the show exactly how the magician intends them to. Every aspect of the performance can be perfectly curated as if it were meant for a single spectator. In many ways, these virtual shows can be even more intimate than a live in person magic show. For 5 months I have seen reactions of wonder and astonishment from living rooms and offices across the world. I believe that virtual magic is here to stay and that these performances are unique beyond compare.
Virtual magic workshops & team building activities for Zoom
The virtual workshop is a perfect addition to any show. Your guests will receive a short list of household materials through which they will unlock an incredible amount of impromptu magic and mentalism. During the program I teach sleight of hand and mind reading tricks that help us discover the devious arts of misdirection and psychology that apply to all magic. Aside from tricks, guest will learn magician style thinking for practical skills such as how to secretly obtain objects from their pockets without drawing suspicion, how to conceal objects in the hands while making them seem empty, and most importantly how to us perfectly time misdirection to make all your secret moves and mischievous deeds go unnoticed. The workshop can be structured as a lecture or interactive team building exercise and can vary in length from 15 to 120 minutes. 
2 reasons why I'm the right choice for your virtual event!
1. Experience
I have over a decade of experience performing professionally for in person events prior to the Covid-19 Pandemic. Those thousands of hours in the real world are integral to my success.
2. Experience
I've performed for over 1000 virtual events since March of 2020. This makes me one of the most experienced virtual magician in the world according to my research.
Frequently Asked Questions
Some virtual magic shows are available 100% free of charge through Humanitarian Magic.
Through my Humanitarian Magic initiative I am able to offer specific shows completely free of charge. If you work with underprivileged children please get in touch about setting a free program for your group. You can email me at HumanitarianMagic@gmail.com. Thanks!
About Zoom Video Conferencing
The majority of my virtual programs are run with Zoom video conferencing software. Zoom allows spectators to interact with Harrison and be seen/heard by other participants throughout the programs. The software can be downloaded very easily on any device and does not require the user to create an account. Zoom can also be run through a browser without downloading anything but Harrison recommends downloading the software, which is very quick and easy to do. Virtual shows can also be run on, WebEx, GoToMeeting, BlueJeans, Google Hangouts, Microsoft Teams, Facebook Rooms, and more.